Impars project
Coordinator: Núria Garí
Text: Marcos Doespiritusanto
Photographs: Aitor Estevez / Roger Alemany
The artwork is made from paper discs, which seek to represent a set of clouds inspired by the colours of the cosmos.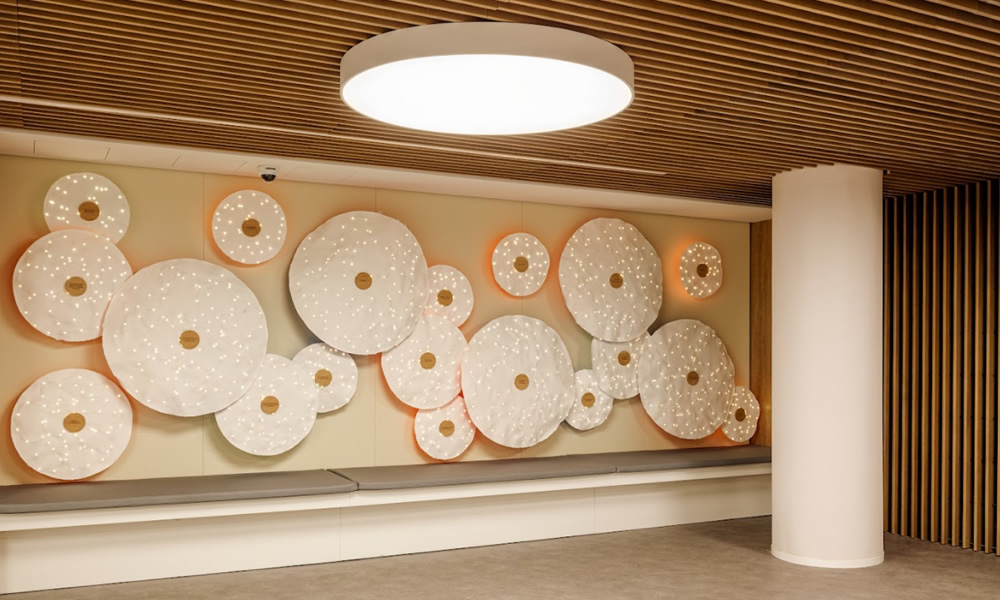 "We were inspired by some of the introspective moments we find in nature, such as the observation of the night's sky, or a sunset. The sight of the sky, or the brightness of the stars, makes you feel insignificant and great at the same time and, in a way, it helps you to see that you are part of something much more profound."
Technically, the installation uses an unprecedented system that inserts LED technology into recycled cotton paper, which was developed by the handmade paper manufacturing company Sastres Paperers SC
The centre of each of the discs reproduces inspirational phrases on wood that invite us to pause and reflect, intermingled with the names of the organisations that have contributed, through their donations, to setting up the clinic.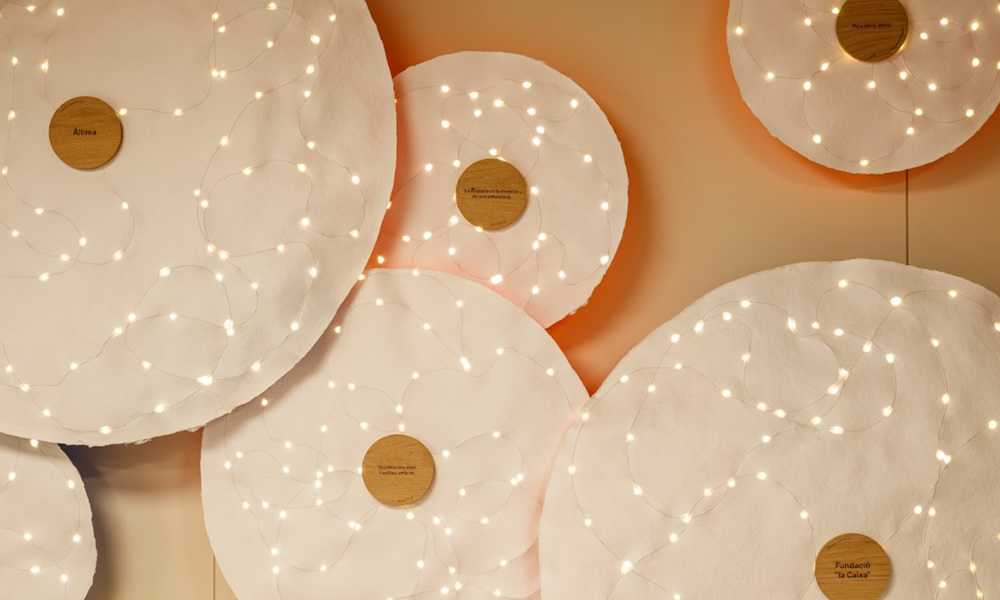 "I think the inclusion of these phrases is very important as it gives each of the discs extra meaning, as well as showing us who the donors are. The position of the donor is not determined by the size, but by the value given to each piece, as well as immersing the donors in poetry."
The great challenge for the artist was to escape the format of an advertisement panel and bring added value to the entrance of the clinic.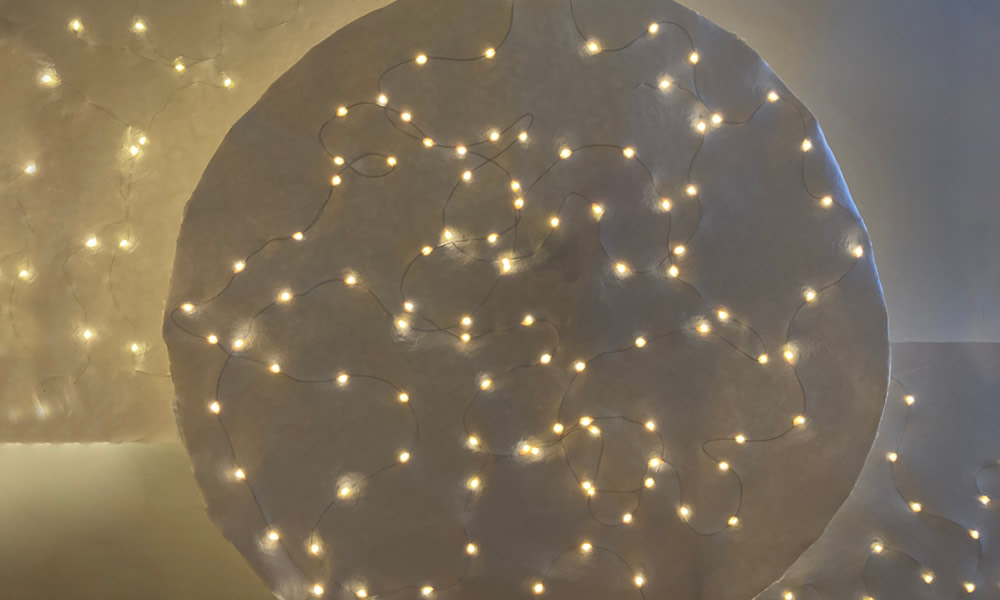 "Obviously, during the creative process, we looked at other donor walls and references, not so much for inspiration, but more to avoid overlapping. Many of these references didn't work for us, because a donor wall for a sport's centre, for example, does not require the same kind of sensitivity as a clinic such as Cuides UIC Barcelona"
On a conceptual level, the work attempts to represent the voluble barrier between beginning and end as philosophical concepts.
"Our proposal is based on modules that intend to represent the idea of an ending that is difficult to define, that is imperfect. We have therefore depicted the cloud or the idea of mass that does not have a perfect finish. We have also depicted the starts and galaxy, in a broad sense. Along with the colours, this has allowed us to capture those moments that can be both a beginning and an end, which for us is the same thing."
Andreu Carulla founded his product design studio in 2006 in pursuit of his childhood dream of becoming an inventor. The studio is located in Banyoles and is housed in a renovated mill near this Catalan town's emblematic lake.
Inspired by materiality, craftsmanship and sustainability, Andreu Carulla creates beautiful objects with timeless appeal. His projects are based on the constant exploration of materials, old-school techniques and contemporary processes, and encompass furniture, tableware, lighting, creative direction, interiors and more.
Andreu Carulla also runs sister studio ACID and works as the creative director for El Celler de Can Roca, Isist Atelier and Calma.
More information: andreucarulla.com