Impars Project
Coordinator: Núria Garí
Interview
Text: Irene Pérez Martínez
Photographs: Diana Segura
London, New York, San Francisco and especially Barcelona have seen you grow up as an artist, but how did you get started in the world of painting?
From early childhood, playing with paints and creative crafts of all kinds was my favourite pasttime. I studied graphic design because I thought it might be the profession that came closest to what captivated me, but I quickly saw that I felt limited with graphic design, so I did a postgraduate degree in creative illustration and began painting. Gradually, between painting, design and illustration, I have found my creative world and different outlets in the professional world where I do murals for hotels and restaurants, as well as picture books with different publishers, illustrations for products and collaborations for different brands, even exhibitions of my oil painting collections and other techniques.
Painting is more than a job for you.
Painting is a basic need for me. When I paint, I feel that I am doing what I was born to do. I don't believe much in talent, but I do believe in the desire to do something and the drive to contine exploring. If you do something often and long enough, you gradually become an expert, and the same is true with illustration and painting.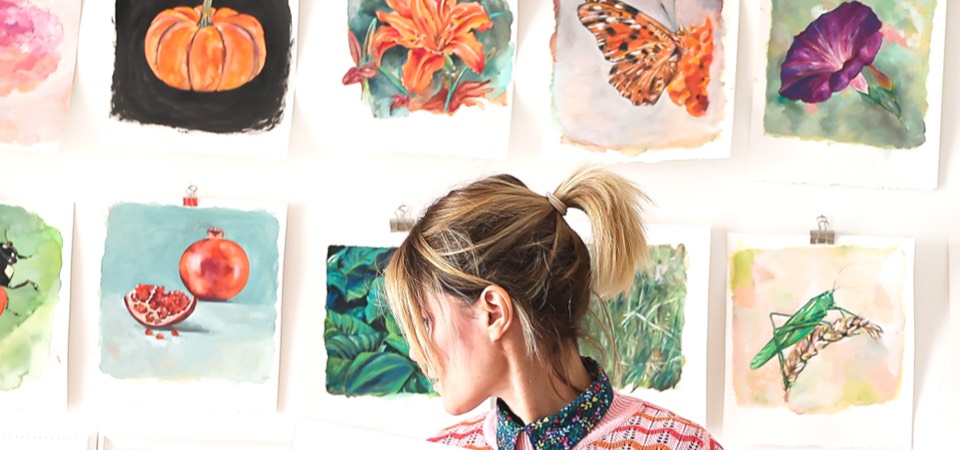 In addition to your first two books, which have been very well received, you completed several successful projects. Which works have had the most impact on you?
Of course, I am very happy to have published my two books VIDA. Bestiario ilustrado and VIDA. Herbario Ilustrado, and, recently, I have published Invisible Animals (Animales Invisibles) with the prologue written by actor Viggo Mortensen. I love having created the collection "Naturae" with Coordonné, which is a dream come true, because interior design has interested me a lot since I was a little girl! And I'm also excited to have collaborated with floral prints for the Yerse Clothing brand.
Nature, and especially animals and plants, are constantly present in your work, like in your first two VIDA books. Are they your source of inspiration
Currently, all my work is essentially characterised by representing plants and animals. Nature in general is an endless source of inspiration. Just looking at it is amazing. We humans are absolutely part of this nature, and we often forget that. I have always felt a strong connection with animals. As a child, I was lucky enough to grow up in a rural setting and was very connected with my father's farm. And, the animals brought to the city seem aesthetically to make a beautiful contrast. I have always thought that city and nature complement each other perfectly and mutually need each other. I like to to look into the eyes of all these species with which we share the planet and marvel at their existence.
The general public knows you particularly for your animal and nature illustrations. How did the creative process develop in your art work, Naixement, a three-person portrait for the UIC Barcelona's Christmas card?
In my paintings I focus mainly on the gaze, composition and colour. I am very interested in the gaze. They say that the eyes are the mirror of the soul. In this case, the main figure is baby Jesus and none of the characters are looking at the viewer. This has been a new experience for me. I like to paint this shared soul that connects us everyone, or at least that's what I am trying to do.
This assignment was a challenge for me. Painting a realistic three-person portrait is no easy task, but I these challenges inspire me and, in the end, I think painting is painting, no matter what the subject it. For me, beauty is also an essential part of my work. Art is a universal language that breaks cultural, language and social boundaries and which I believe has to connect us with beauty. I like to hunt this beauty that is found in everything and immortalise it, so that we remember it when we are not able to see it.
How did you receive this proposal?
At first, I was surprised that it was an order with such a specific and definite proposal. Normally, I am used to receiving orders that are quite open, where I am free to express and create the brief in my own way, such as paint "a Christmas card" or even "do a something around the birth of Jesus, a nativity scene" in your own way. But this time, they asked me to use three figures for the scene: baby Jesus, Saint Joseph and the Virgin Mary. At first, it might seem too restricted, but then I was inspired by the idea of representing such a classic and highly represented theme in our culture. I felt it was a challenge to paint this image so powerful and full of history and meaning.
Was the creative process very different from the process you usually follow?
The creative process was the same as usual. First, I visualise the image. Then I create a reference image through a photograph and lastly, I paint it. In this case, I made a pencil sketch first, then I painted with watercolours and finally with oil. As the final goal was to make a Christmas card and in line with that goal, I thought paper would be the most the most suitable media.
Speaking of births, you became a mother a year and a half ago. Did your own experience inspire you to do this painting?
Yes. The experience of being a mother has changed my life completely; in the way I experience time, nights, the act of taking care of my daughter, being responsible for her health; she most definitely comes first, before myself, I think of life through her needs. The time I have left to work also depends on her needs. She is my top priority because I feel that is that this is what I have to do now. Suddenly my life dances to her rhythm and when she is satisfied and happy, I am happy. I guess it sounds a bit cliché, but for now, in these first months of her life, that is how I'm experiencing it. I suppose that this never-ending love that I feel as a nurturing mother will somehow affect my way of perceiving the world and, therefore, also my work as well.
And all this has been reflected in the painting.
With all these new emotions I am experiencing, I very much liked the idea of representing the Virgin, of feeling like the original creator mother, which I believe all we mothers have inside us. So, I put a scarf on my head and asked my husband to stand by my side and I acted as if I were embracing my baby, as if our baby was the baby Jesus. It was an emotional and fun moment on the balcony of our home. My assistant took some pictures of us that I edited with Photoshop, and I used them for reference to paint the Christmas card. Many times, the reference materials I use have a funny story behind them.
Is motherhood also influencing the new projects you are undertaking?
Yes, motherhood is influencing me in everything. This past year and a half have given me a lot of time to be with my daughter and this has allowed me time to feel like I want to do and try new things. I have begun landscape painting. I am working on large-format landscapes with oils in my new studio in the Empordà region. The landscapes there very inspiring to me, and I really liked to relax my wrist a little and enjoy the more flowing and colourful brushstrokes. I will do a new exposition when i finish the series.
And are there any more projects we might see soon?
For Sant Jordi, Editorial Planet publishing company will be releasing a new book for children 0 to 5-years old that is dedicated to my daughter. I am also preparing a course for Domestika, which was put on hold during the pandemic and is scheduled for recording in Madrid at the beginning of the year. I also have a couple of books scheduled six years from now with Bridge publishing house, part of the Grup Enciclopèdia Catalana.
Acrylic combs, oil, watercolor… on wood, fabric… Your creations touch on many different styles and techniques. What techniques do you like to use most in creating your illustrations?
Lately, I mainly paint with watercolours and with oils, but more than the technique, what I like is to do is to paint, anything, and with whatever. I like bright colours. I am inspired by the brushstroke and the detail. I feel more comfortable with the large format. I like to observe and immerse myself in the creativity of this life. I am interested in naturalism.
I think a stroke is interesting when the author's energy vibrates; the intensity and the time and the life that is contained in this brushstroke. Sometimes it is a meticulous stroke, other times a spontaneous brushstroke full of sparkle. I am especially attracted by the richness of the colour and the strokes that convey the artist's personality.
As a naturalist painter.
Many times, I have been told this because observing is what I like to do most in the painting process. Meditation painting, observing and discovering a landscape in an animal's coat interest me. It's like zooming in to see an entire universe.
Finally, if you had to define yourself as an artist in five words, which words would you choose?
I can say that I like to be hopeful and at the same time allow myself to be unsettled by the magic of life. I want painting to be intense and not leave you indifferent. A certain mysticism. I am very interested in stain, texture and color. I know that the only thing I can contribute is my gaze, the world through my eyes, and this is what I try to do.